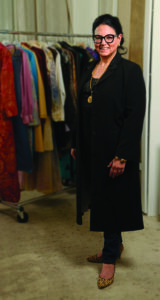 When I was quite young, my mother gave me a beautiful Hermès scarf. She explained the signature, the label, what hand-rolled, hand-sewn edges looked like and why one day, this scarf would be of importance. She always carried a scarf with her, wore one around her neck or wrapped around her hair when she pulled it back. At times she tied a scarf around her shoulders, over her coat or simply tied to her handbag. These are fond memories that have stayed with me. I remember understanding, while still very young, on a very visceral level, what something as simple and beautiful as a scarf could do to transform the plain or everyday into a stylish, memorable outfit. I still cherish this scarf as part of my private collection.
I love fashion and style. Certainly, I appreciate designer goods. But vintage clothing and accessories have a magical ability to transform any outfit into an experience for the wearer. It was magical for me as a child and I still experience that magic today.
When I began collecting for myself in my late teens, early 20s, I would "shop" my friends' mothers' closets, the neighbors', then I started going to auctions and estate sales and on…I've cultivated and nurtured these life-long relationships. As time passed, I would be contacted if closets or attics needed cleaning out when people were moving or downsizing, etc. I would also curate when I traveled. I still have some of these first treasures in my private collection.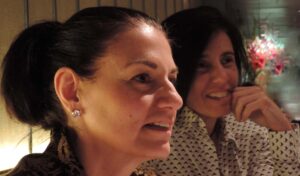 The idea of starting a company and sharing my extensive collection was my sister Rebecca's idea. I had been in luxury fashion and retail/wholesale for years, I had the experience and tools needed to start a business. Rebecca advised me to "Follow your passion, live your dream! Do what you love most". And that is how The Vintage Label, LLC started. Rebecca is my business partner, Co-founder and Chief Data Officer for The Vintage Label. Her wise words resonate with me daily.
Vintage doesn't necessarily mean extravagant in price. It means that it has that transformational magic. Of course, we do have exquisite and rare pieces but The Vintage Label appeals to a broad audience due in part to the wide range of price points within our collection. We offer something for everyone, including numbered, rare, vintage couture pieces, and museum-worthy items.
The majority of the collection is from the late 50s through 90s with more current fashions. With the current trend for haute couture and ready-to-wear being so much about the 60s and 70s one can see how vintage is really about trends that became standards and standards that became transformative. And, it's sustainable. In the world we live in, recycling is so important. Remember, vintage is the ultimate recycle!
Since I began originally curating years ago, I've maintained this practice with a few exceptions- vintage men's designer ties- Hermès, Gucci, Emilio Pucci and Ferragamo. We offer vintage luxe men's cashmere. Men's vintage hats have always been popular with both men and women clientele. I also have curated vintage textiles and unique, special vintage interior décor items.
The Vintage Label is really about a transformative experience. Nothing can be as memorable as a scent, so we created our very own custom, candle collection. All of our candles are made with organic, soy wax, essential oils and are small batch produced in the U.S. Hand poured into reusable glass vessels our collection is exclusive to The Vintage Label. We are so proud of this first expansion of our brand.
Merriam Webster defines a curator as, "one who has the care and superintendence of something." I am truly a curator. I have also identified and cared for things I love, that speak to me. This still stands true today, including new pieces within the collection.
The Vintage label has a unique business model, we have built our brand on offering concierge-style service to our clientele. We provide curated personal appointments in our shop at Free Market as well as in client's home or office in the Denver metro area. Our luxury, private, appointments, include a pre-selection of items based on the client's interest as well as personal styling services. Truly personalized, customized service is part of our DNA. We also provide complimentary delivery within the Denver metro area, for phone or social media purchases.
In addition, The Vintage Label does pop-up events and larger shows, we also do in-home client trunk shows. We have a loyal following on Instagram and of course we get discovered through word of mouth. Our client base spans the U.S. as well as in Canada, United Kingdom and Italy.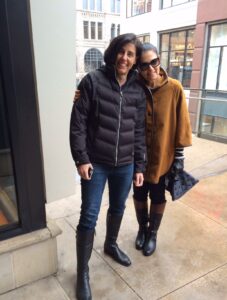 All the history in creating The Vintage Label circles back to family, my childhood and the experiences that fashion and curating evoke for me. I remember going with my mother, to classic stores like I. Magnin and Bonwit Teller. I'd always get dressed up to go shopping with her. While she was busy, I would go around the department and chat with the sales ladies about what they were wearing, what the mannequins had on and about the fashions in their domain.  Then my mother would whisk us to the fragrance department, and I would get to dab of Chanel No.5 on my wrists before we'd head home. That was a treat! I still wear this fragrance today, and I still love it.
~Carolyn Carrington
Co-Founder, C.E.O.
The Vintage Label, LLC