LIFE'S TOO SHORT.
BUY YOUR HAT FROM
THE VINTAGE LABEL
IT'S TIME FOR YOU TO HAVE A TVL MOMENT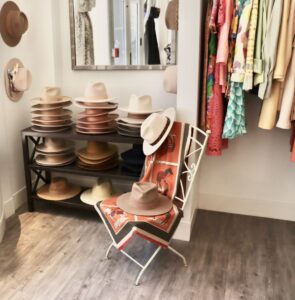 LET'S BOOK A HAT PARTY!
Celebrate a birthday, bachelorette, special occasion, or just an afternoon with colleagues!
Styling your own hat has just became more exciting with our in-store custom hat-bar hat! Book a
private hat-Making experience and have fun with a wide range of hats and unique accessories such as
vintage scarves, wraps and hat bands, curated pins and broaches, and feathers, all to fill your wildest hat dreams.
Our stylists will assist in adding boujee bling & other
fun accessories to add to your hat with the fabulous gig pip hats
here's how the process works:
1. A stylist will assist you to find your favorite hat
2. After you select your hat, pick the accessories that speak to you. Take your time, there is a lot of eye candy!
3. Watch as your hat comes life!
Invite your guests & Create the perfect hat
TIME SLOTS AVAILABLE
4:00 TO 6:00PM
OR
5:00 TO 7:00
*2 hours of shopping
To find out more about what our events entail at The TVL & to speak to our events team, please fill out the form below:
Please allow us up to *48 hours for a response